Its that time of year again! Bramble Berry is looking for folks to help them test out some new fragrances, and once again I am going to try and be one of those people!
The first big question for SOAP panel consideration: what is your favorite Bramble Berry product? This is always a hard one for me... there are so many! But If I HAD to choose just one item, one thing that I couldn't do without, it would have to be my 9 Bar Unfinished Birchwood mold (now with handy dandy silicone liner).
This mold is super versatile! I can do plain bars, or ITM/ITP swirled bars (in the mold/in the pot). I can also do more advanced swirls like the column pour, dream catcher swirl, or the peacock swirl. This mold is also great for salt bars, the dividers mean no cutting required. No more timing yourself to cut a loaf of salt soap at just the right non-crumbly moment! As most of you folks who have seen my videos can attest, I use this mold CONSTANTLY!
The 9 bar mold is, to me, the quintessential mold. The one mold that you should have, especially if you can only have 1 mold! I got mine as part of my wedding present from my husband. Now it is well loved, soap and colourant stained, maybe the odd dent or two (I'm a klutz sometimes!) but still 100% perfect.
The second big question for SOAP panel consideration: why should you be chosen? I'm a soap making maniac (according to my family) who spends countless hours on youtube encouraging others and enjoying their videos, and requests all gifts be in the form of Bramble Berry gift certificates so I can further feed my addiction! We even converted one of our spare bedrooms into a workshop for me, so I can soap to my hearts content and not tie up the kitchen! Honestly I just love making soap and other bath goodies. I keep my friends and family WELL stocked with soap, lotion, fizzies and candles (etc etc).
I'd love to be a part of something like the SOAP panel not only because I love making soap so much, but also because I love testing new things. New fragrances, new colourants, new additives. I get to use some of my hard earned laboratory skills (can we say "Holy detailed notes, Batman!") in a fun and creative way. I also get to share my results with folks and hopefully help a few out along the way.
Crossing my fingers and toes that maybe this year I'll be chosen! Also wishing everyone else who wants to be a part of the panel good luck and much juju!
Here are some picture examples of my mold in use, and a few of the swirls you can do with it: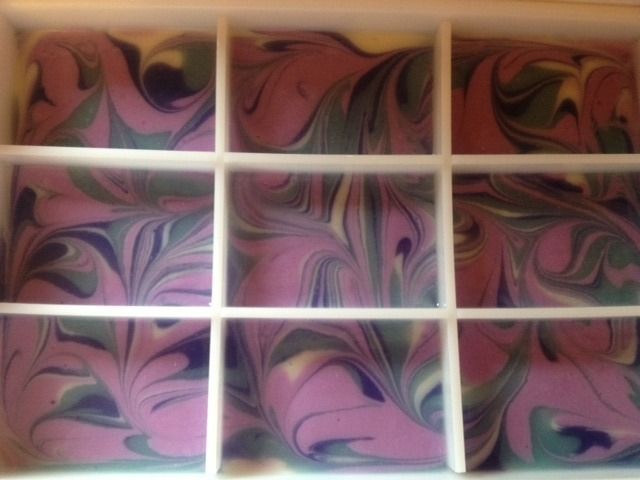 Peacock swirl (pink sugar).
Salt bar ITP swirl (pear berry).